Sweet Potato Fries Dipping Sauce – Why Settle for Ketchup
Ketchup is boring. If you've got some sweet potato fries to add some variety from regular french fries, there's no reason to settle for boring. Sweet potato fries deserve unique dipping sauces.
Whether you choose homemade baked sweet potato fries or fry them yourself, adding a sweet potato fry dip will make them unique. Read on for some of my favorite dips and sauces for homemade sweet potato fries.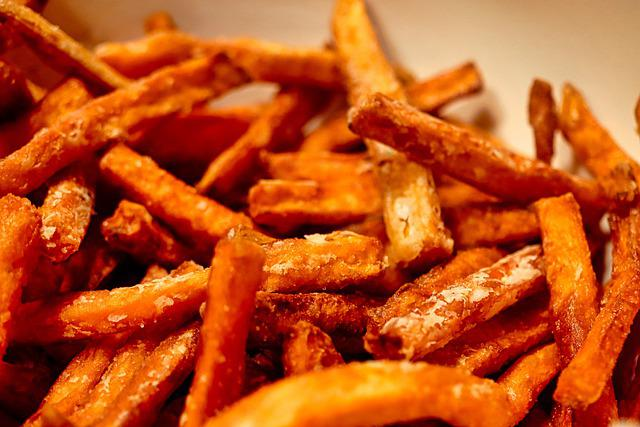 Sweet Potatoes vs. Regular Potatoes – What Makes the Fries Different?
Even though sweet potatoes and regular potatoes share many similarities, there are also some critical differences. Sweet potatoes are usually much sweeter than regular potatoes. The sweeter flavor isn't due to the color, although orange is a great way to eat the rainbow. It is because sweet potatoes contain slightly higher levels of sugar.
In addition, sweet potatoes typically have a softer texture than regular potatoes. As a result, chefs often choose sweet potatoes for a wide variety of dishes that aren't suitable for regular potatoes. For example, sweet potato fries are becoming increasingly popular as a healthier alternative to regular fries.
Sweet potatoes are also an excellent source of vitamins and minerals, including Vitamin A, Vitamin C, and potassium. They also contain more fiber than regular potatoes, which can help promote gut health and regulate blood sugar levels. So if you'd like to try to make some delicious sweet potato fries on your own or upgrade at your favorite burger joint, I'm pretty confident that once you try them, you'll love sweet potato fries as much as I do.
How to Make Homemade Sweet Potato Fries
When trying to make sweet potato fries at home, it's always a balance between getting them soft on the inside and super crispy on the outside. Don't worry. Here are my best techniques for the best sweet potato fries!
Clean the sweet potatoes in cold water and pat them dry.
(Optional) Remove the skin with a peeler.
Cut the sweet potatoes. Depending on how crispy you want your fries to be, you can go many different routes here. Thin fries will cook faster and are easier to get that crisp texture all the way through, but thick-cut fries are also delicious. Next, cut your potatoes accordingly and place them in a large bowl. (Best tip – Use a mandoline to fine tune your preferences for super thin fries or thick fries)
Rinse the sweet potatoes in cold water. You can use a few rinses in running cold water with a filter or let them sit for 30 minutes. This step removes the starch from the fries to get them perfectly crispy.
Place the fries on a dishcloth or paper towel in a single layer. Dry them with another dishtowel or paper towel. This again is to make sure they cook correctly and come out golden brown and perfectly crisp.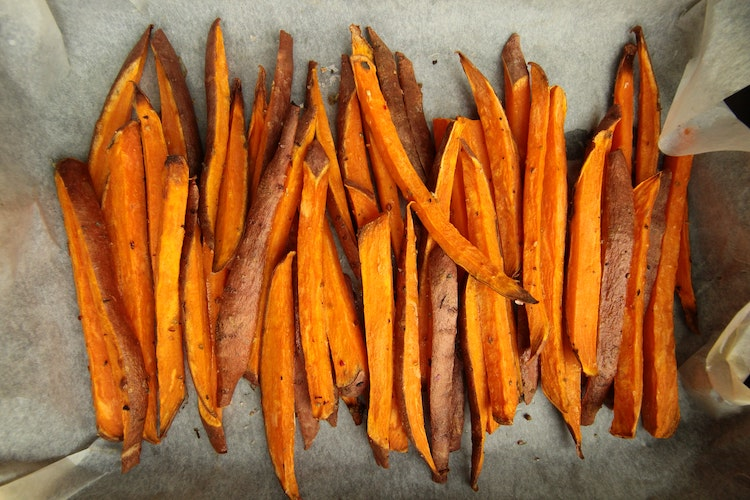 That's it for preparing your sweet potato fries halfway. Now you need to cook them! You can either use your oven for baked sweet potato fries or a variety of frying methods if you want to have classic sweet potato fries.
Baked Sweet Potato Fries
Preheat your oven to 375°F. In a bowl, toss sweet potatoes in olive oil to coat. Place the fries on a baking sheet lined with aluminum foil or parchment paper in the oven.
Cook until the fries are crispy. You may have to remove smaller fries halfway and flip them over or remove them from heat and place them on a cooling rack.
Remove from the oven and dry off the excess oil. Season with sea salt and black pepper. Serve immediately.
Classic Sweet Potato Fries
Use a deep pot or a wok to heat olive oil on medium heat. There should be enough oil in the pan to submerge the fries, but not so much that it will boil over.
Add the fries slowly, so you don't cool off the oil too quickly. Ensure each fry is wholly submerged in the oil for about 15 minutes. When you can easily pierce the fries with a toothpick or a fork, then they're ready to come off.
Remove the sweet potato fries and place them on a cooling rack. Heat the oil to a higher temperature with medium-high heat to double fry them and get a perfectly crispy outside and a beautiful golden brown color.
Add the sweet potato fries back to the oil in batches. Remove the fries and place them back on the rack as they are ready. Dry off the excess oil. Season with sea salt and black pepper. Serve immediately.
Best Dipping Sauces for Sweet Potato Fries
Now that you're crispy sweet potato fries are ready (or baking in the oven), it's time to choose how we want to finish them off with one of the three best dipping sauces I know of.
Honey mustard is pretty standard, and I'd bet you'll probably know how to make that, so here are my three favorite sauces that are a little more creative!
Creamy Sriracha Dipping Sauce
Garlic Aioli Sauce
Brown Sugar Cinnamon Dipping Sauce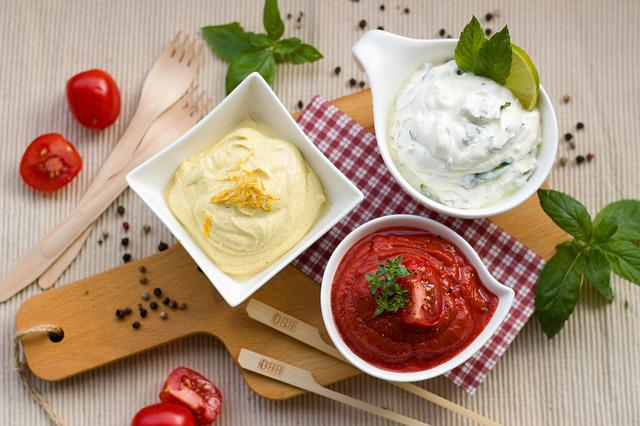 Creamy Sriracha Sauce Recipe
For the adventurous who want to add a little spicy kick to contrast with the sweet potato fries, try a spicy sriracha dipping sauce to make sweet potato fries the perfect complement to various main dishes.
All you'll need is a bowl and whisk and the items below! (Makes two servings.)
Mayonnaise (1/2 cup)
Lime Wedge (1 for lime juice)
Sriracha Sauce (start with 1/2 tsp)
Ranch dressing (1 tbsp)
Garlic powder or minced garlic
Salt and freshly ground black pepper. Add the mayonnaise to a large bowl, followed by the juice of 1 lime wedge and your sriracha. Mix all the ingredients with a whisk. Now that you have the base of the dipping sauce. Add your desired spices together in a small bowl and add them to the dipping sauce.
Taste frequently with the sweet potato fries, as you are adding the spices to make sure you don't overdo it. If you decide it's too spicy, add more mayo or olive oil to reduce the spice level!
Garlic Aioli Sauce Recipe
Making an aioli is like making mayonnaise but way better! Aiolis are often served at gourmet burger restaurants, but they're easy to make at home to serve with burgers and fries or as the perfect snack cuisine!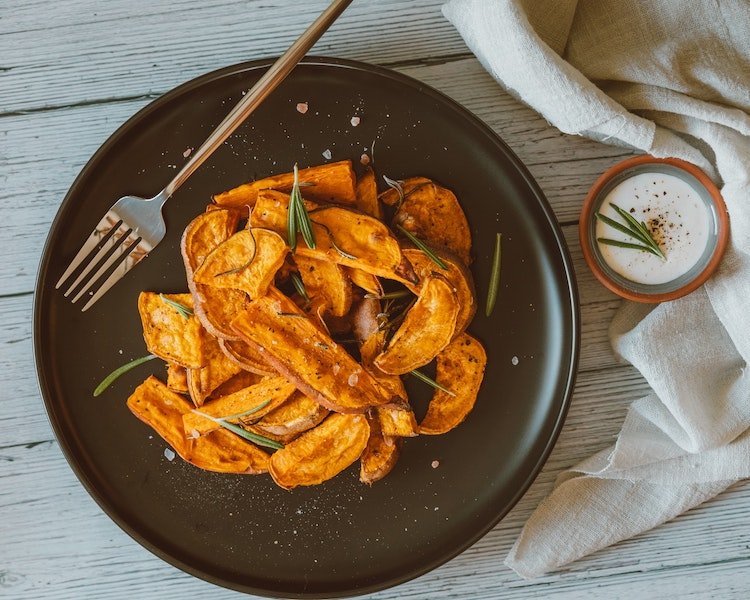 Preheat your oven to 425°F and prepare the following ingredients to make a gourmet restaurant-quality dipping sauce! (Makes two servings.)
Mayonnaise (1 cup)
Garlic heads (2-3)
Parmesan cheese (2 tablespoons)
Cayenne pepper (1/8 teaspoon)
Smoked paprika (1/8 teaspoon)
Dijon Mustard (1/2 tablespoon)
Worcestershire sauce (dash)
Lemon juice (1/3 cup)
Salt and freshly ground black pepper
Cut off the tops of the garlic. Wrap them in foil, and place them on the middle rack of your preheated oven for 30 – 35 minutes. The high heat will help the cloves come right out into a small bowl when they're done.
In a food processor, combine the ingredients. Pulse until well combined. That's it you can serve immediately or place it in the refrigerator for later.
Brown Sugar Cinnamon Dipping Sauce Recipe
If you've got a sweet tooth and you're looking for a quick sauce to satisfy your cravings try out this dipping sauce with cinnamon and brown sugar to add to your sweet potato fries and make them extra delicious and even dessert-like!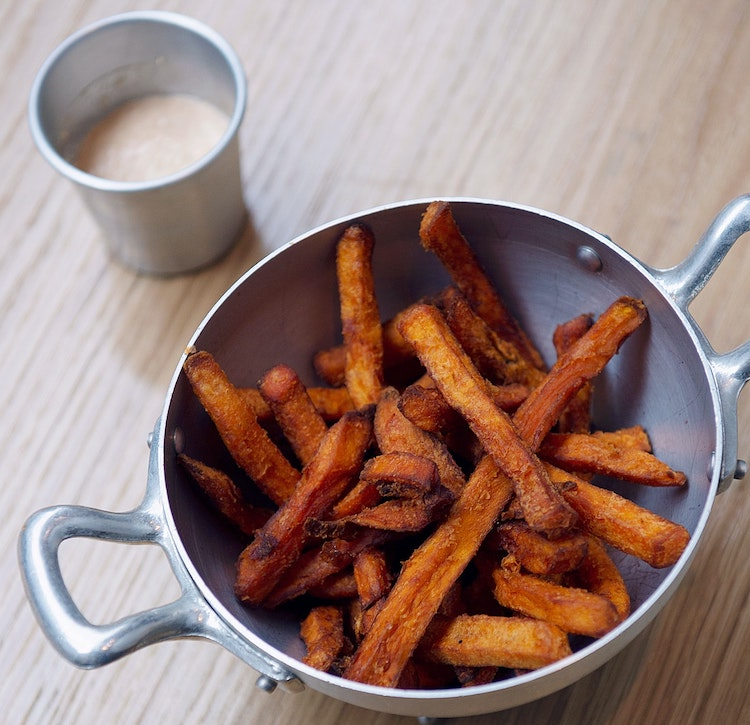 Grab a spatula, a whisk, a bowl for mixing, and the following ingredients for this sweet dipping sauce. (Makes two servings.)
Softened Cream Cheese (4 oz or 1/2 of a package)
Brown Sugar (1 tbsp)
Sour Cream (2 tbsp)
Vanilla or Maple Syrup (1 tsp)
Milk (1 tbsp)
Kosher Salt (1 tsp)
Cinnamon (1/2 tsp)
Put everything into your metal bowl and use the spatula to break down the cream cheese until the mixture is broken down enough to use your whisk. Continue mixing everything with your whisk until the dipping sauce is uniform throughout.
Wrap Up
Well, there you have it! Three of my favorite dipping sauces for sweet potato fries! I hope I've convinced you to try at least one the next time you make fries at home because these are super easy to throw together and when you're having good food like crispy sweet potato fries there's no reason to settle for ketchup.
Why not add that little extra to really make it 5 stars? Tell me which one was your favorite in the comments!