How to Use a Mandoline Slicer – Safe & Easy Food Prep
If you're thinking about getting a mandoline slicer to cut down on your food prep time commitment (who hasn't?) and wondering whether if they're that hard to use and worth the investment then this post is for you.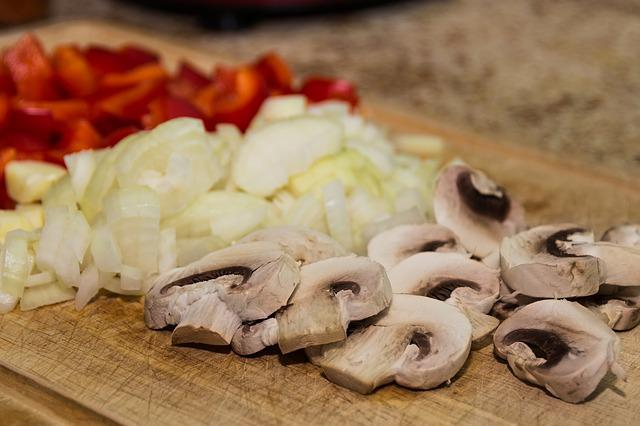 We'll cover the steps of how to use a mandoline slicer to make slicing and preparing vegetables a breeze, our favorite uses for mandolines, and the one I have in my kitchen!
What is a Mandoline Slicer?
A mandoline slicer is a kitchen gadget that can quickly and easily slice vegetables. They typically have a flat surface with a blade that can be adjusted to create different thicknesses of slices. Some mandolines also have julienne and waffle blades to create different shapes and sizes of sliced vegetables.
What are the top uses for a mandoline slicer?
You can use a mandoline slicer for many creative kitchen recipes, but here are some of my favorite reasons to learn how to use a mandoline.
Slicing vegetables for salads and stir-fries (straight slicing is most common)
Making thin, even slices of fruits and vegetables for chips or dehydrating
Creating perfect matchsticks for vegetable sides or garnishes
Julienning vegetables for slaws or coleslaws
Quickly make waffle cuts in fruit or vegetables for a cut with more surface area (great for frying for chips!)
Are mandoline slicers dangerous?
If used correctly, mandolines are excellent kitchen tools that can help you create consistent, evenly sliced fruits and vegetables with ease. However, if not used properly, they can be dangerous. Many chefs have cut fingers on the blades. However, the same thing is true of many kitchen tools, so the important part is knowing how to use your mandoline safely!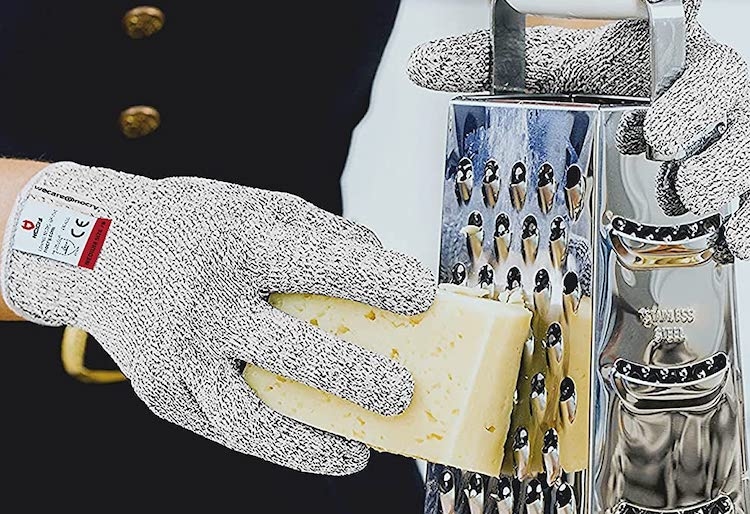 Of course, there's the #1 rule for cutting safety (Always cut away from yourself). But the biggest part of mandoline safety is in the design. All good mandolines will come with a finger guard, which is used to hold the food when slicing. This shield should be used every time you slice, no matter how big or small the vegetable is (so make sure the finger guard is big enough for the vegetables you want to cut). The other part of mandoline safety is in the grip. A good grip will help you feel more in control and less likely to slip and cut yourself.
What to Look For in a Mandoline
Now that we've gone over some of the basics, let's get into how to set up what to look for in a mandoline so that your cutting experience is as efficient and easy as possible. After experimenting with a few mandolines here are some of the top features I'd look for before making a purchase.
Intuitive Set Up – The setup should be easy and quick. If not, you won't use it, which defeats the purpose. It should also be on a stable base to avoid rocking the blade while you're cutting. The best way I saw this done was with silicone-covered stands on both ends of the mandoline.
Easy Adjustment – A good straight blade that can be adjusted to different thicknesses is a must. Features like julienne blades for cutting thin strips and waffle cut are nice to haves, but not really necessary.
Sharp Single Blade – It's very hard to sharpen mandoline blades, so if they're not sharp to begin with it will make your experience difficult because the vegetables will continually get stuck, and you should return any mandoline with a defective blade. Single blades also have less friction than the V-blade design making slicing easier work.
Platform – Platform mandolines are more versatile than their counterparts with small containers to hold the food, so you won't be forced to buy small vegetables to use your mandoline.
Safety – this can be accomplished with a good handle, which most mandoline slicers have, that allows you to push food down or a cut resistant glove. Both methods are effective and it's really a personal preference.
Easy Clean – For obvious reasons, every kitchen tool should be easy clean.
I've found two mandolines that meet these criteria, the Benriner Super Mandoline Slicer (additional glove recommended) or the Oxo Chef's Mandoline Slicer 2.0. A brief summary of them both is below.
Benriner Super Mandoline Slicer
This one is my favorite and the one I keep in my kitchen.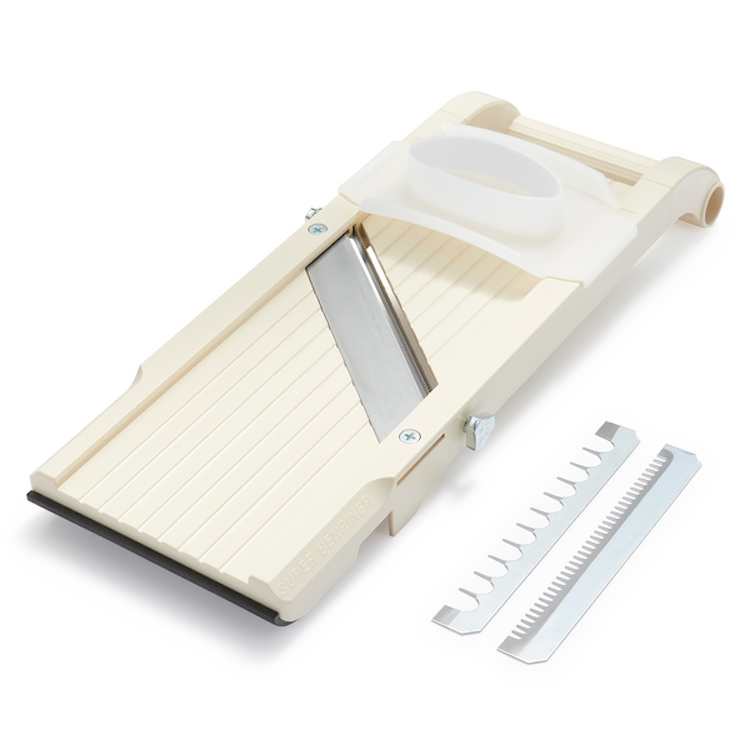 Pros
Super sharp blade and design which makes cutting easy
Adjustable dial makes choosing slice thickness simple
Pretty compact and easy to set up
Cheaper than comparable mandolines
Cons
Poor handguard design means purchasing an extra safety glove (if you don't have one already) is a necessary choice so you can use your mandoline slicer safely.
Oxo Chef's Mandoline Slicer 2.0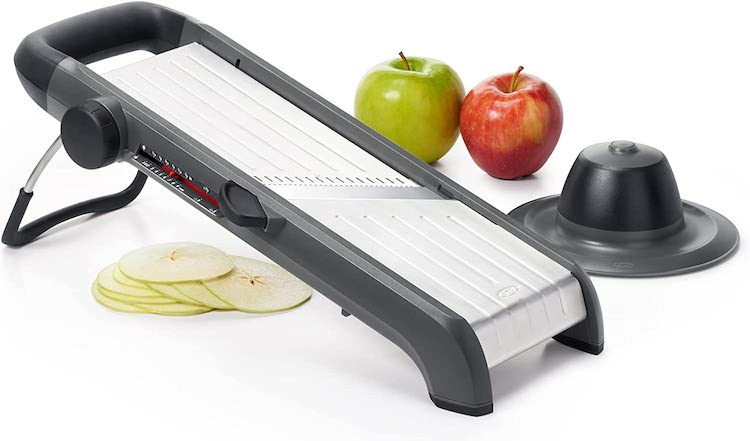 More expensive but probably the most intuitive of all the mandolines I tested.
Pros
Great handguard that's safe and doesn't waste food.
Adjustable dial makes choosing a thickness simple
Great base for setting up a sturdy cutting station.
Cons
The blade wasn't quite as sharp as I'd like, which makes slicing fibrous vegetables harder.
Not as compact or cheap as the Benriner.
How to Use Your Mandoline
Set Up Your Slicing Station – First, you'll want to set up your slicing station. This is important because it will help you be more efficient and less likely to cut yourself. I like to use a cutting board with a silicone mat underneath for stability, but any flat surface will work. You'll also need something to catch the food as you slice it. A bowl works great, especially if your mandoline has a lip that will sit on the bowl.
Wash your vegetables or fruits – Next, you'll want to wash your vegetables or fruits. This is important because it will remove any dirt or bacteria that could contaminate your food.
Cut Off One End – Once your vegetables are washed, you'll want to cut off one of the ends if you don't want them. This will prevent any unwanted bits from being cut. The end you keep will help provide a gripping surface to hold the vegetable as you slice it.
Slice Away! – Start slicing, go slowly and always cut away from yourself keeping your fingers tucked and palm flat with a firm grip on the hand guard or foood. After you've done the set up though this should be the easy part!
What to Use Your Mandoline For?
The ideas are endless but here are a few delicious recipes to get you started!
Wrap-Up
A mandoline slicer is a great kitchen tool to have if you want to be able to quickly and easily slice vegetables or fruits. They're also great for making healthy snacks like veggie chips and sweet potato fries. Just be sure to use caution when operating one, as they are very sharp.
Once you get the hang of them though, they're pretty indispensable kitchen tools. I use mine often for cutting vegetables for everything from easy snacks to weekday dinner recipes. I hope you'll get as much use out of your mandolines as I do!