Homemade McGriddle: DIY McGriddle Recipe
The McDonald's McGriddle is one of their all-time best-selling items on the breakfast menu. Still, the McGriddle taste is available to you at home, so you can customize it to be a healthy food choice that's even available after 10:30 AM! So let's get started breaking down the quick steps to make a homemade McGriddle!
Original McGriddle Breakdown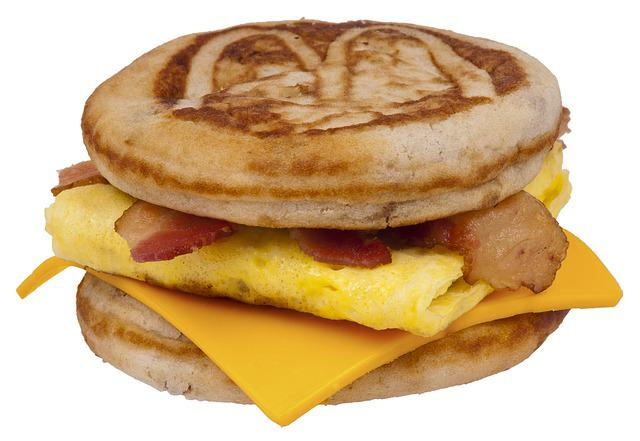 If you haven't had one lately or aren't familiar with the famed McGriddle, one of America's most popular breakfast sandwiches, here is a quick breakdown of the recipe so you know exactly what we are aiming for with this McDonald's copycat recipe.
McGriddle Ingredients

For the Bacon, Egg, & Cheese McGriddle
Griddle Cakes
Folded Egg
Pasteurized Processed American Cheese
Applewood Smoked Bacon
Clarified Butter
and as I'm sure you've guessed, if you order a different version of a McGriddle, McDonalds will substitute the bacon, egg, and cheese accordingly.
McGriddle Nutrition Facts
Let's use the Bacon, Egg, & Cheese McGriddle again as our guide. The original McDonald's recipe has the following nutritional information.
430 Calories
21 grams of fat (27% daily value)
44 grams of carbs (16% daily value)
17 grams of protein (34% daily value)
15 grams of sugars
12.3 grams of sodium (54% daily value)
With nutrition facts like those, there are many good reasons to make your own homemade McGriddle.
Homemade McGriddle Recipe – The Secret
The key to this breakfast sandwich recipe is in the fluffy pancakes with maple crystals and turning them into pancake buns. To get these, reduce pure maple syrup in a saucepan and let it cool on parchment paper for moldable maple syrup, you can cut and roll into tiny spheres.
With that out of the way, let's dive deeper into exactly how to make a delicious breakfast sandwich at home. The sausage patty (or crispy bacon), melty cheese, and egg mixture are all essential but the secret is in the pancake recipe.
Once you get the maple sugar flavor in the pancakes right, the sausage, egg, and cheese will take care of themselves. So we'll start with the most challenging part of homemade McGriddles; getting the maple flavor into the pancakes.
Homemade McGriddle Buns
The McGriddle pancake mix with pure maple crystals is undoubtedly the biggest secret to crack when trying to make a homemade McGriddle. Yes, you could make a small sandwich-sized pancake and add the maple syrup, or maple syrup substitute, on top to get the same flavor profile, but it just wouldn't be the same, and you couldn't take it to go for a homemade DIY breakfast.
Homemade McGriddle Buns – Pancake Batter and Maple Syrup Crystals
1 cup (230 mL) maple syrup
1.5 cups (225 g) of all-purpose flour
2 teaspoons (9 g) baking powder
1 tablespoon (14 g) sugar
1 teaspoon (5 g) salt
1.5 cups (325 mL) of whole milk
1 egg
2.5 tablespoons (1.5 g) melted butter
(Optional) Round molds or cookie cutters
Saucepan
Baking Sheet
Parchment Paper
Instant Read Thermometer (you can try to eyeball this if you don't have your kitchen essentials, but I always use the thermometer)
Homemade McGriddle Buns – DIY Method
Steps 1 through 10 will help you make the pancake batter with the unique maple crystals inside.
Pour the maple syrup into a saucepan over medium heat to reduce the syrup. You may need to adjust the heat up and down to prevent bubbling over. If the syrup is bubbling over, your stove is too hot, and you need to reduce the heat. Heat the syrup to ~265˚F or ~130˚C, about 10 – 15 minutes.
Line a baking sheet with parchment paper. Pour the heated maple syrup over the parchment paper to form a syrup puddle, and use a plastic spatula to spread it evenly over the parchment paper. Let the syrup cool to room temperature.
After the syrup has cooled to room temperature (or in the fridge if you want to go faster), create tiny ball-shaped pieces by cutting off small strips of the cooled syrup. These will be the maple balls in your homemade McGriddle!
Now for the Griddle Cakes! Mix your dry ingredients.
Add the milk, egg, and melted butter. Mix all ingredients until they are thoroughly combined.
(Optional) Lightly grease the inside of a ring mold or cookie cutter for the size/ shape you're trying to make. If you don't have one, don't worry, the edges won't be as uniform, but they will still taste great. You can also use a mason jar lid or any other spare kitchen item you can put on the grill as a round mold.
Heat a griddle or non-stick pan on medium heat and add a bit of butter until it bubbles on the surface. As soon as it bubble, spoon in about 3 tbsp of the batter. This should create a very thin layer about the size of a McGriddle. If you want a larger homemade McGriddle, add more batter.
While the griddle cake is cooking on the first side, spoon in a few maple balls and press them into the batter using a utensil, so you don't burn yourself. If you want to sneak in some extra colors in your diet and eat the rainbow, add in blueberries using the same method.
Flip the griddlecake after about 2-3 minutes, when the first side is golden brown, and repeat on the other side, also for about 2-3 minutes.
Repeat steps 6 through 9 for as many pancakes as you need. Save any leftover batter in the fridge.
Homemade McGriddle Toppings
You can get creative and spice up your homemade McGriddle to make it even better than McDonald's!
Folded Egg
The folded egg is simple to copy. Just whisk 1 egg per sandwich with some salt and pepper. Pour the egg mixture onto a griddle and spread the egg into a thin layer. Fold the egg mixture as it cooks when it's approximately halfway done into your desired shape.
You can make variations on the folded egg with an over easy-fried egg by using the same ring mold or cookie cutter you used for the griddle cakes.
Cheese
McDonald's uses pasteurized and processed American cheese; I recommend upgrading your cheese selection; Pepperjack, anyone? But it's up to you to add your cheese and melt it on the griddle cakes over low heat.
Bacon, Sausage Patties, Chicken, Steak?
There have been a lot of McGriddle variations over the years, but since you're the boss in your kitchen, you can do whatever you want. Add your breakfast sausage, crispy bacon, or the protein of your choice or none at all. You can also use tomatoes, avocadoes, or any other breakfast topping!
Putting It All Together
Once you've got two McGriddle pancakes, you add a little butter and a little syrup on top, and then assemble egg, cheese slices, and sausage patties to your heart's desire to finish up your breakfast sandwich! Enjoy!
Wrap-Up
I hope this post has cleared up any troubleshooting you may be doing on trying to recreate this recipe. I love making breakfast sandwiches, and this DIY McGriddle recipe has been fun to experiment with. Let me know if you have any other tips for getting them to turn out even better than at McDonald's!
Sources