Ceviche de Pescado – How to Make Fish Ceviche
Trying to come up with an impressive idea for a party appetizer that's not too difficult to make? Ceviche de Pescado is one of my recipes that I go to when I'm in that situation, but really any fresh seafood will do, if you can get the fish this recipe will help you wow your friends when you walk in the door!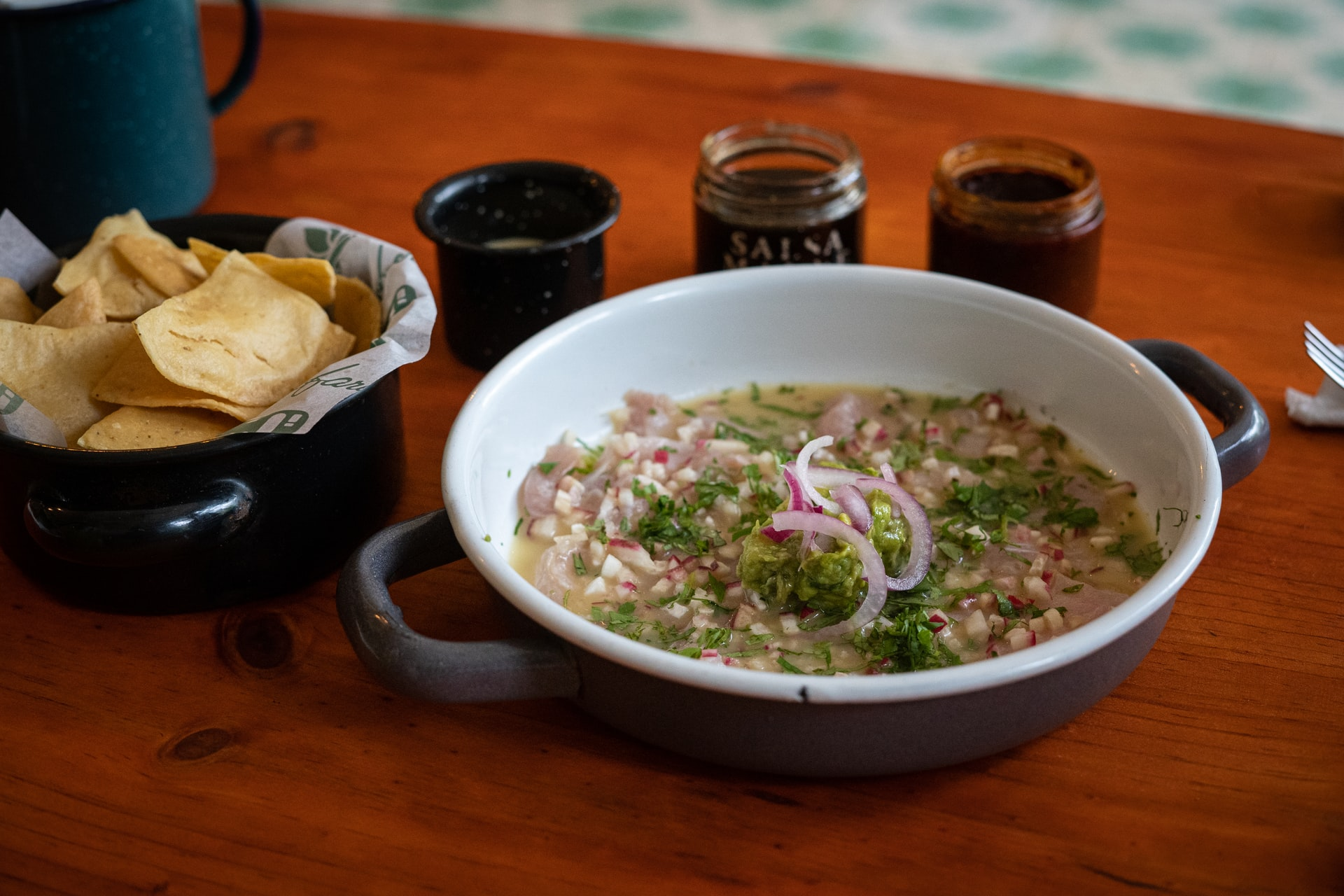 Ceviche de Pescado…What are we Making?
Ceviche is a seafood dish that is very popular in Latin American countries, typically it is made with fish or shrimp. The seafood is "
Is Ceviche 'Raw' Fish? Ceviche vs Sushi, Crudo, and Tartare
When people conversationally refer to raw fish there are a few things that come to mind. First, there is sushi-grade fish or sashimi, this type of fresh fish is almost always served as uncooked raw fish without any dressing.
Second, there is Crudo (which means 'raw' in Spanish and Italian) which can mean any uncooked item with a dressing (the dressing is what separates it from sashimi sushi-grade fish).
But what about ceviche? Ceviche is not technically raw. Although ceviche is served cold, the acid that the fish sits in breaks down the proteins in the fish. This is a chemical change that can't be reversed so it counts as 'cooking' even though there is no heat.
So it's the acid, usually a lemon juice or lime juice combination, that is used to cook the fish or shrimp used in the ceviche so that it is not technically 'raw' even though it is cold.
Where Does Ceviche Come From?
No one quite knows exactly where Ceviche originated, however, it's clear that it originated somewhere in Latin America several centuries ago. Peruvian ceviche might be the most widely celebrated modern version (Peru even has a national Ceviche Day on June 28th).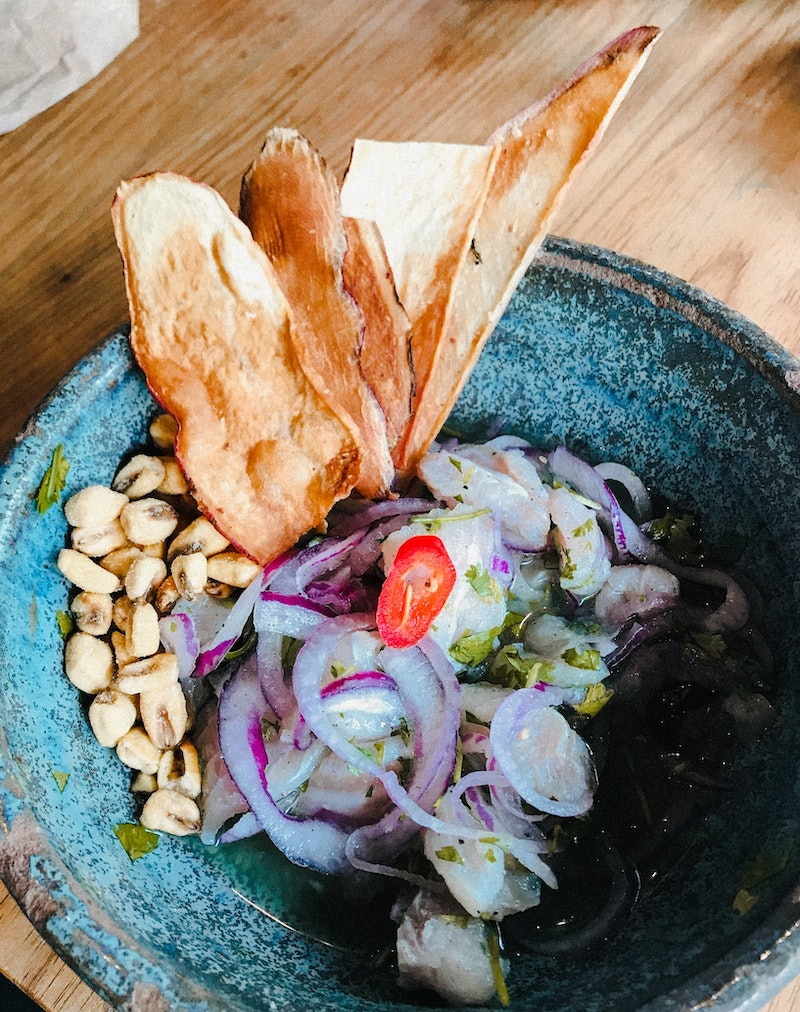 However, because it's such a simple dish to make, it could be attributed to many cultures in Central and South America. There are many variations of this famous dish from Ecuadorian ceviche to Mexican ceviche, each with its own characteristics.
Are there other types of Ceviche?
Yes! There are many different types of ceviche. Due to the varied origins of ceviche, many regions have developed their own particular recipes to serve ceviche. Imagine all the combinations of citrus juice (lime juice, lemon juice, grapefruit juices, etc) that you can combine with any number of fresh herbs and spices to make a unique fish ceviche recipe!
Popular iterations of Ceviche de Pescado include;
Substituting the Sea Bass with any other white fish – Mahi mahi, shrimp, lobster, local shellfish, and other saltwater fish all make good choices.
Trying Tropical Fruits – You can make delicious ceviche in a variety of flavors by using the in-season fruit or whatever happens to look fresh when you go to the grocery store or local market. It's not so much about following the recipe as it is about getting the freshest fish and best ingredients you can.
Different Types of Tapas – Ceviche can make an excellent topping on more than just regular tortilla chips. Ceviche also goes well with plantain chips or can be served in a separate bowl by itself!
Great Times for Fresh Fish Ceviche
Ceviche de Pescado, and just ceviches in general, are super impressive to people who don't cook, which is why it's such a great idea for parties. You can serve to a group in a dish as an appetizer or add avocado and chips and put it in a cocktail glass to make it oh so elegant.
It's pretty incredible that this takes just a few minutes to throw together and can cook in the time it takes you to get ready for the party! That being said here are my favorite occasions to break out my ceviche recipe.
Outdoor Summer Parties – ceviche is served cold
Date Nights – make this and order takeout for everything else
Potluck Appetizer / Tapas Dish – the different ways you can serve ceviche make this an easy dish for tapas that can be part of an appetizer focused party!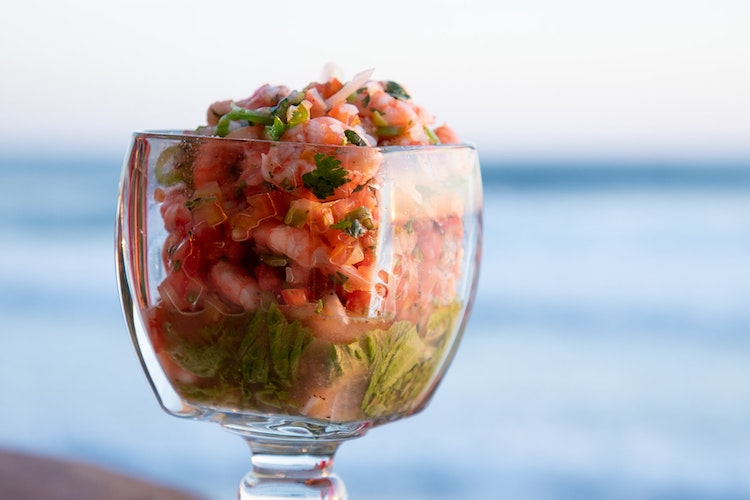 Lemon Juice, Lime Juice, and …
This recipe might seem scary, but when you break it down it's pretty easy if you have the right ingredients. Here are all the things you'll need for Ceviche de Pescado.
If you don't have something, or just want something different, feel free to substitute for sea bass for any white fish or even shrimp. There are many different variations of Ceviche de Pescado, so if you're feeling adventurous you can make ceviche any way you like and try different versions to see which is best!
Here are the basics;
The freshest fish you can get – Sea bass is my favorite, but I've seen variations of white fish and shrimp as well that have been very deliscious.
Acid – We'll use a citrus juice to 'cook' and flavor the marinated fish. Options here include; orange juice, lime juice, lemon juice, and (maybe) just a splash of tomato juice if you like V8.
Flavorings – It's time to let your instincts take over. Grab fresh herbs, salt, and pepper, olive oil, red chili peppers, fresh mint, bell pepper, or whatever you think will accompany your main dish and chop it up into little tiny pieces.
Ceviche de Pescado Recipe
This one's easy, don't worry.
Ingredients
1 lb Fresh Sea Bass or other white fish or peeled and deveined shrimp
1/2 cup of acid combination to taste (lime juice, lemon juice, orange juice, grapefruit juice) can all be used. I usually stick to lemon juice for the majority (3/8 cup) of it and will tweak the rest depending on how I feel.
Salt and pepper
Herbs and Spices – I used thinly sliced red onions, mint leaves, fresh cilantro, and usually a seasonal fruit like mango or papaya.
Method
Chop the fish or shrimp into appropriately sized pieces. This depends on how you want to serve the ceviche, larger chips mean larger slices and smaller chips mean smaller slices.
Combine the fish and acid mix in a large bowl and season to taste with your herbs and spices.
Marinade in the fridge for at least 5 minutes and up to 30 minutes (you can go longer but your ceviche will be more well done).
Transfer to a serving dish and serve immediately.
How Long Will Ceviche Last?
Fresh fish can last two to three days maximum if you keep it cold by using ice packs and putting it in the back of your fridge, but once you add the acid it will start to cook the fish and continue to cook the fish as long as it's in contact with it. So technically even while you eat it the ceviche is still being cooked.
Keeping this in mind, the question of how long ceviche will last is taste-dependent. If you like your ceviche to be like sashimi sushi, then it won't last very long because the acid will cook the fish. If you prefer it to be more 'well-done' then it will last a bit longer. However, if at all possible you should serve immediately and don't leave any leftovers. If you do, cover with plastic wrap and eat the next day.
Wrap Up
I hope you're ready to make your own Ceviche de Pescado! This dish sounds super complicated, but trust me it's easy and can be made very quickly if you have a fish market you trust.
Good luck and happy cooking!