Bahama Mama Tropical Smoothie: Make This Favorite
This post will remove the mystery behind the 'Bahama Mama' name and teach you all of the ingredients that you can (and should) put in your blender for the best tasting Bahama Mama Tropical Smoothie.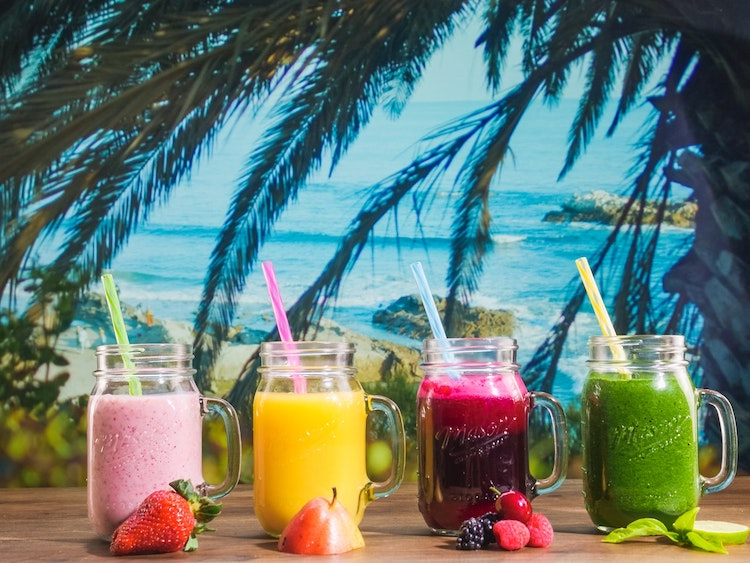 The summer is the perfect time to brush up on your basics for making tropical smoothies and drinks to sip by the pool. Knowing how to make great smoothies is as necessary as the essential kitchen tools so grab your coconut milk and let's learn how to put this together!
While the 'Bahama Mama' is a classic you can make for your friends, you can also add a lot of tropical twists to your recipe to make it your own secret recipe 'Bahama Mama'. (Don't worry we'll give you plenty of options!)
Tropical Smoothie Bahama Mama Recipe
If you're looking to copy the Tropical Smoothie Bahama Mama at home all you need to do is blend the following ingredients together in a blender until you've reached your desired texture.
This makes 1 Serving (learn how to adjust serving sizes here)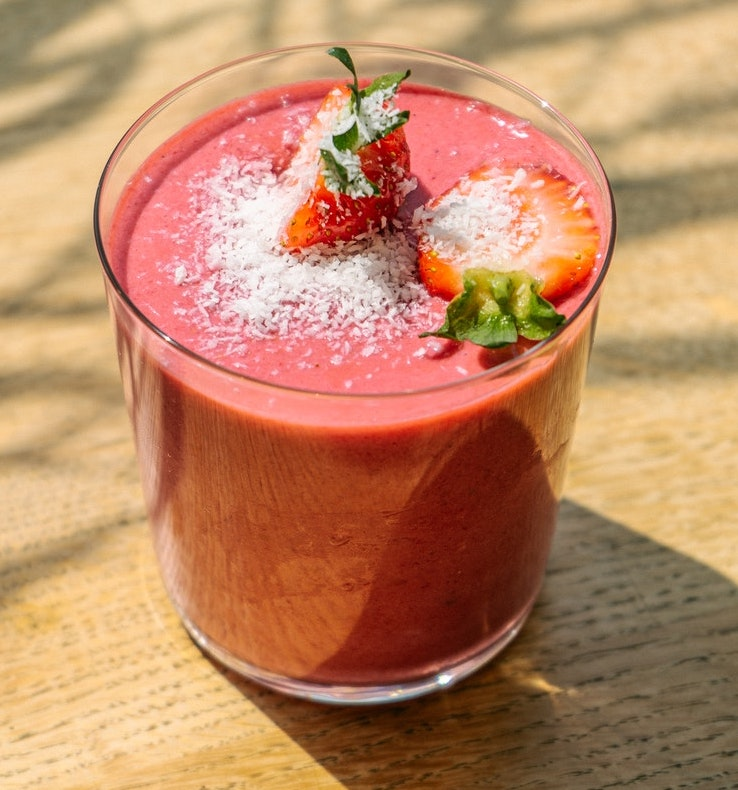 Strawberries (5 oz)
Pineapple (3 oz)
White Chocolate (1 tbsp)
Coconut (2 oz) – It doesn't matter whether you use shredded coconut or coconut chips in your recipe it's all getting blended!
Blend all the ingredients together until chopped. After add your desired milk and optionally ice to the blender to get to the desired texture.
Milk of Choice – I recommend coconut milk and I add it in baches of 1/3 cup at a time to make sure I don't make the smoothie too liquidy. Almond milk is also tasty.
I use chopped frozen fruit, but you can also use fresh fruit and crushed ice, if that's what you have. If that's the case, add the crushed ice last and in small batches because it will let you dilute the flavor to your liking.
Tropical Smoothie Bahama Mama Calories & Nutrition
The Bahama Mama Smoothie at Tropical Smoothie Café has tree nuts (the coconut), soy, and milk, which is all pretty standard for a smoothie, but how many calories does the Tropical Smoothie Bahama Mama have?
510 Calories (290 if you make it with Splenda)
2 grams or 20 Calories from fat
4 grams saturated fat and 0 grams trans fat or cholestorol
112 grams carbohydrates (64 grams with Splenda)
3 grams fiber
3 grams of protein
110 grams sugar (56 grams with splenda)
Want to Level Up Your Bahama Mama Smoothie Recipe?
Good, I love learning how to make the recipes better. I think it always helps to know the authentic ingredients behind a recipe because knowing the basics helps you make the right decisions when you have to substitute ingredients or just want to add your own twist.
What's a Bahama Mama?
A Bahama Mama is actually a cocktail of rum, grenadine syrup (added for pomegranate flavor), orange juice, pineapple juice, and crushed ice. These make up the 'classic' flavors for the Bahama Mama.
So now that you know the basics of the Bahama Mama Smoothie Recipe you make it your own with a little bit of honey for extra sweetness or added protein powder or nut butter for a healthy breakfast.
Fresh or Frozen Fruit?
Good news, you can use both in smoothie recipes, but it does change how you make them. If you're using frozen fruit you won't need as much ice to keep the smoothie cold, the frozen fruit or frozen fruit juice will do that for you!
I generally still add a little ice, but usually about 1/3 as much as if I was using fresh fruit.
What Other Secret Ingredients Can You Add?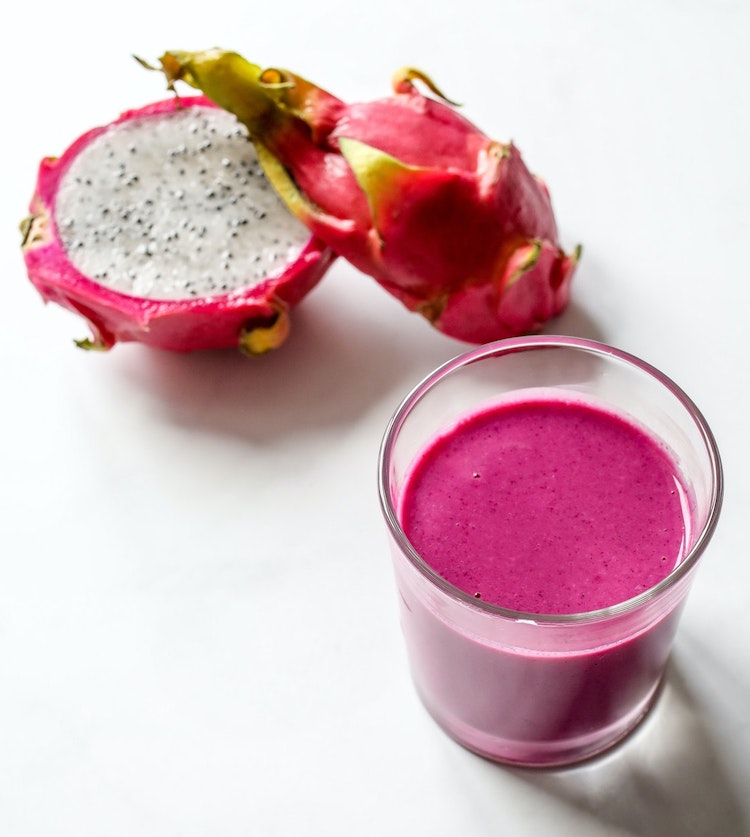 I'm so glad you're reading this part, because it means you really want to know how to impress your friends with your creativity. Don't tell them your secret, but here's a few secret ingredients you can add so you can legitimately call it a 'secret ingredient' for your own Bahama Mama Tropical Smoothie.
Passionfruit
Guava
Papaya
Starfruit
Dragon fruit
Mango
Tamarind
I've kept it to the fruits commonly found in grocery stores around the United States, but of course if you're lucky and live closer to the Caribbean and can find any of these fruits, give them a try!
Variations on the Tropical Smoothie Bahama Mama Recipe
All the fun in cooking is in experimenting so here are a few to try if you're curious (brave) enough.
Dirty Tropical Smoothie Bahama Mama (Alcoholic Version)
If you're trying to add a kick to your Bahama Mama I recommend rum. Vodka will add alcohol but will be a knock against the authenticity.
Rum is already an ingredient in the orignal 'Bahama Mama' cocktail so it only makes sense to add it here. Don't overdo it here though for obvious reasons. I recommend blending your initial fruits into a purée and then adding the desired amount of rum (or other liquour).
If you add the ice/milk first the added liquid will dilute the texture and make it kind of runny 🙁
Carbonated Version
Everyone loves fizzy drinks, and there's no shortage of tropical flavored options. The important thing to note if you're trying to add fizz to your Bahama Mama is to add the blended smoothie to the carbonated water AFTER you reach a thicker than desired consistency.
Here's why:
Adding the tropical smoothie to the water will dilute the flavor, so it should be extra thick to start out with.
IF YOU BLEND A CARBONATED DRINK IT WILL MAKE A HUGE MESS. Ask me how I know in the comments 🙂
What to Do With Leftovers from Smoothie Recipes
Smoothie recipes are meant to be consumed fresh, but lots of times we end up making too much, which leads to the question of what to do with the extra smoothie mix and how long will the smoothie be good for?
The smooth texture should keep stay creamy and taste delicious for a few days, but I try to use the smoothie as soon as possible. They're a great addition to a healthy breakfast and you can add other toppings like chia seeds, almond butter, or granola and yogurt to make a smoothie bowl if there's not quite enough to be filling.
If you start with older ingredients though, that will change the time it will last in the fridge. In that case, I stick the smoothie in the freezer to make the goodness last. Any time I decide I want a smoothie without having to go to Tropical Smoothie Cafe just let it melt and you'll have a delicious smoothie with zero cook time!
Smoothie Recipe Wrap-Up
Now that you know what goes into the Bahama Mama Tropical Smoothie it's time to break out your blender and try out your ideas. Do frozen strawberries work better in the recipe or is frozen pineapple juice the secret ingredient that makes this dessert your new favorite? Let me know in the comments below!
Sources